Fresh Ingredients and a Genuine Passion
Fresh Spring Rolls: shrimp, BBQ pork/crispy roll, lettuce, basil, and vermicelli wrapped in rice paper
$6.99
Vegetarian Spring Rolls (tofu, crispy roll, lettuce, basil, and vermicelli wrapped in rice paper)
$6.99
Egg Rolls (crispy fried rolls with grounded pork, onion, carrot, taro and noodles)
$6.99
Vegetarian Egg Rolls (crispy fried rolls with carrot, taro, noodle and tofu)
$6.99
A5 - Thịt Nướng Heo hoặc Gà Xiên (2x)
Grilled Pork or Chicken Skewers
$8.75
A6 - Gỏi Cuốn Thịt Nướng (2x)
Fresh spring rolls with grilled pork or chicken, crispy roll, picked carrot and daikon radish wrapped in rice paper
$7.75
Fried Tofu, served with traditional chili sauce
$7.75
Deep fried Shrimps or Squids in mixed tempura batter
$8.75
A9 - Tôm hoặc Mực Chiên Giòn
Deep fried Shrimps or Squids in mixed tempura batter
$8.99
Chicken Wings Special
$8.99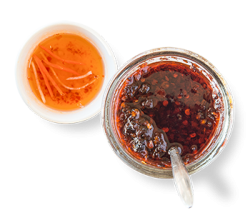 Bánh Mì / Vietnamese Sandwiches
A French influence that has become the daily fare of all Vietnamese. You no longer have to go all the way to the ID for a toasted French loaf stuffed with full of goodness. We fill ours with homemade pickled daikon radish and carrots, cucumbers, mayo, pate, soy sauce and cilantro
Grilled Pork Sandwich
$6.99
Grilled Chicken Sandwich
$6.99
Vietnamese Ham Sandwich
$6.75
Tofu and Sesame Veggie
$7.75
Phở / Vietnamese Beef Noodle Soup
The broth is simmered with herbs (ginger, anise, cloves, cinnamon, and more). The noodles are soft and topped with onions, cilantro, scallions and your choice of meat. Add basil, bean sprouts, jalapenos, a twist of lime, a few squirts of hoisin and chili sauce to bring together the flavors of the ultimate Vietnamese comfort food.
Small: $12.75 / Large: $13.75
Mama's special soup (*rare beef, well done brisket, meatball, tendon and shredded tripe)
Small $13.25/Large $14.25
4 - Phở Chín or Tái, Bò Viên
Well done Beef or *Rare Beef with Meatball
Vegetables: Carrot, Broccoli, Nappa, Baby Pokchoy, and Tofu in chicken or veggie broth.
Seafood: shrimp, squid, fish ball and imitation crab
Small $13.75/Large $14.75
10 - Bún Bò Huế (one size)
Spicy beef noodle: beef shanks, sliced beef, and Vietnamese ham
$14.99
10A. Hoành Thánh Mì (one size)
Won Ton Soup with egg noodle or rice noodle and BBQ pork
$14.99
10B. Mì Mama's Đặc Biệt (one size)
Noodle House Special: BBQ pork, fried chicken drumstick, and tempura prawn with egg noodle
$15.25
Extra bread, egg, or noodle $1.50 / Vegetables, soup, tendon or shredded tripe $2.00 / Rice, meat, shrimp or seafood $2.50
*Notice: Consuming raw or under-cooked meats, poultry, seafood, shellfish or eggs may increase your risk of food borne illness.
Bún / Rice Vermicelli Noodle
A cool mix of rice noodles, lettuce, cilantro, and peanut served with seasoned fish sauce. Topped with your favorite lemongrass charbroiled meat and/or chopped eggroll for refreshing and filling meal.
Mama's Special Vermicelli: egg roll, fried shrimp, grilled chicken or pork
$14.99
Grilled Chicken Vermicelli
$14.25
Grilled Pork Vermicelli
$14.25
Egg Rolls Vermicelli
$13.75
15 - Bún Thịt Nướng, Chả Giò
Grilled Pork or Chicken & Egg Roll
$14.50
16 - Bún Đậu Hũ, Thịt Bò or Gà Xào
Stir-Fried Tofu, Beef, or Chicken with lemongrass, onion, and bean sprout on top of Vermicelli
$14.99
Mama's special fried rice served with all the fixings, eggs, chicken, grilled pork, shrimp and mixed vegetables (carrot and peas)
$14.50
Fried rice with grilled chicken, eggs with mixed vegetables (carrot and peas)
$13.99
Fried rice with grilled pork, eggs with mixed vegetables (carrot and peas)
$13.99
Seafood fried rice with shrimp, fish ball and squid
$15.25
Grilled Pork Chop and Fried egg on rice
$14.99
Beef short rib on rice
$15.99
23 - Cơm Thịt Nướng, Chả Giò
Grilled Pork or Chicken and Egg rolls on rice
$13.99
Grilled Pork Chop, Julienne pork and Fried egg on rice
$15.25
25 - Cơm Thịt Bò or Gà Xào Với Bông Cải
Stir-Fried Beef or Chicken with onion, carrot, and broccoli on rice
$14.99
S1 - Phat Thai Thịt Bò or Gà or Tôm
Beef or Chicken or Shrimp(add extra $1.00) Pad Thai
$13.99
Vietnamese crepe with bean sprouts, green onions, shrimp and BBQ pork or tofu with lettuce wraps
$15.25
Beef Stew with carrots, served with your choice of French bread or noodle
$14.99
Korean Noddle Stir-Fry with Beef, Chicken, or Tofu and garlic, onion, carrot, green cabbage, bean sprout, soy sauce, & sesame oil
$14.50
Oxtail is a Cow's tail. Oxtail is served as a soup & noodle with onion soy sauce(as thefat, cartilage, and bone marrow add plenty of favor on noodle soup)
$16.50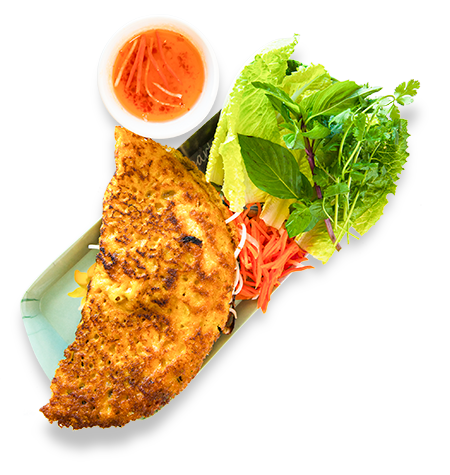 B1 - Vietnamese Milk Coffee
Fresh Young Coconut Juice
$4.99
Coke, Pepsi, Sprite, Diet Coke, Diet Pepsi, Root Beer, Orange Crush, Ginger Ale and Dr Pepper
$2.50
B9 - Blended Bubble Tea Smoothie with Tapioca Pearls and/or Jelly
Choice of Honey dew, Strawberry, Coconut, Taro, Mango, Avocado, Coffee and Pineapple with Tapioca Pearls or Fruits Jelly favor
$6.50
Rainbow Bean Dessert: sweet red bean, Mung bean, agar gelatin (Jello) & coconut milk pudding
$5.99